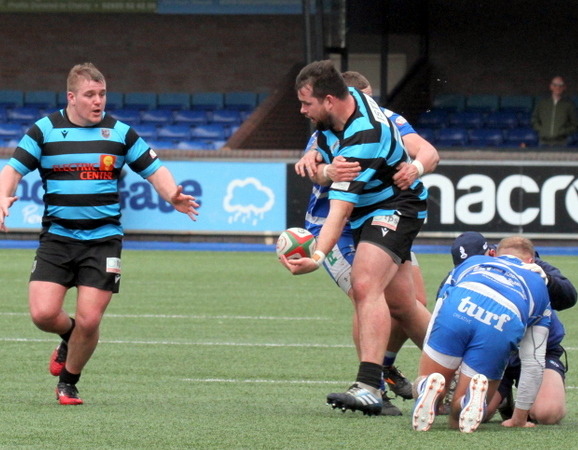 Picture Curtsey of Viv Jones
IslandStats.com
Brynley Toms and his Cardiff Rugby teammates came away from St Helens with a hard-fought bonus point 29 Ė 8 win to maintain the second spot in the Indigo Premiership table.
An early Dan Fish penalty gave Cardiff the advantage, but the defense was being severely tested by Swansea as they pushed into the visitor's twenty-two. Two turnovers were secured by being first to the breakdown and that snuffed out any Swansea attacks
The first Try came after a Penalty was awarded in midfield. The usual thing to do would be to push the ball into the corner, but Fish had other ideas. Spotting space on the far side of the pitch he sent a racking kick into the Swansea twenty-two. Joe Goodchild was on the same wavelength and raced onto the bouncing ball, gather, and scored. Fish converted from wide out.
Cardiff was attacking from anywhere on the pitch to stretch the Swansea defense and came close to scoring as halftime approached but it was the defense that was keeping Swansea at bay. The home side was throwing everything at Cardiff and was rewarded with a penalty just before halftime.
Swansea has an early chance in the second half with a penalty that went wide, but a few Cardiff penalties later and Cardiff was on the 5-meter line. The lineout didnít go quite as expected, but the result was the same. As the ball was palmed back it bounced up for Ethan Lloyd. He spotted Efan Daniel free on the touchline, the hooker sprinting over untouched, Fish converted.
Cardiff were now building the pressure on the home side and when Fish sent them into the twenty-two they looked likely to score. Several drives at the line ended in a goal-line dropout. A penalty then allowed Swansea to clear their lines. But when Fish sent a long penalty back into the home half the third try did come. From the lineout, Arron Pinches punched a hole in the defense before Daniel popped a kick through that substitute Ryan Wilkins ran onto to score. Fish was again on target with the extras.
Swansea did get a try back with 6 minutes to go when Morgan Morse crossed. Cardiff though were on the hunt for the fourth try. Harrison James made a break that sent him into the twenty-two, the final pass just wouldnít stick. But with the clock red Cardiff got what they wanted. A lineout steal in the Swansea half was whipped wide Wilkins set Fish free. The outside half fired the ball back inside as he was about to be tackled where Joe Williams was on hand to score.