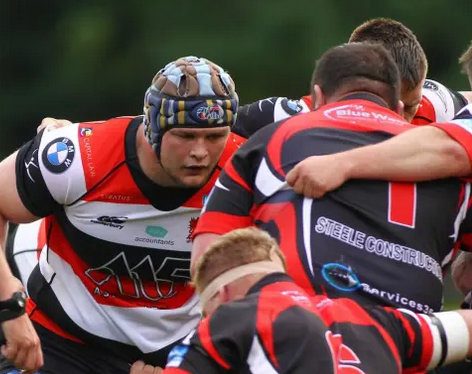 Brynley Toms and his Cardiff Rugby teammates secured a bonus point win at the Arms Park scoring nine tries in the process, as they defeated Llanelli 57 Ė 28.
The first half was a scrappy affair with Cardiff failing to control the ball in the first quarter. Llanelli disrupted the home team ball and when they did have it mistakes meant a stop-start flow to the game. Cardiffís first try came from a lineout inside the visitorís 22. When the maul went rumbling toward the line it was stopped illegally and the referee went under the posts to award a Penalty Try, handing a yellow card to the miscreant.
The lead was short-lived, however, as Llanelli pressured the home side into a mistake and Joe Rees was able to take advantage, Josh Phillips leveled the scores with the extras. Cardiff was soon back in front when a Llanelli attack broke down just outside the Cardiff 22. As the ball bounced loose it was picked up by James Beal. Although he was brought down just short of the line he was not held and managed to dive over for the second Try, Dan Fish added the Conversion. Despite Llanelliís pressure, Cardiff was now getting more control and when Dewi Cross scored in the corner they were on track for the bonus point they wanted. That came on the stroke of halftime. Cardiff ran the ball from their own half and when Cross and Joe Goodchild broke the defense Ryan Watkins was on hand to finish the move, Fish again adding the extras.
The second half saw a brief return to the scrappy play of the first half, but when Morgan Allen barged over Cardiff looked as if they were getting the game under control again. A loose pass by Llanelli in mid-field allowed Arron Pinches to steal the ball and race over near the posts before Llanelli came back into the game. Phillips darted under the post to bring the visitors closer before Goodchild got himself on the scoresheet. The fullback cut the line beautifully and a couple of pairs of hands later he had the ball to score.
Josh Phillips got Llanelliís third, but Cardiff was not finished yet. Tom Habberfield was on the end of a great try which started in the Cardiff twenty-two. Jacob Lloyd burst through a gap and found debutant Ethan Phillips in support. The second row handed it off the Goodchild who found Habberfield supporting inside, the scrum half injuring himself in the act of scoring. With all substitutes used Cardiff was now forced to play out the remainder of the game with only 14 men. This handicap didnít stop Joe Goodchild from scoring his second try of the afternoon with a few minutes left, and with the last play of the game, Llanelli managed to get a losing bonus point, to reward their efforts, as Gareth George went over near the posts.