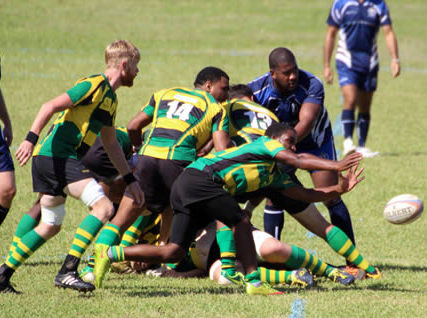 www.islandstats.com can confirm that the Mariners Menís Rugby Football Club have withdrawn from the Bermuda Rugby Football Union.
Over the last few years, Mariners Men have struggled to field a team, with this year being no exception, with officials informing BRFU Officials that they can no longer continue with a make-shift team in the Menís Division.
BRFU President Sean Field confirmed Marines withdrawing from the league stating, ďI can sadly confirm that Mariners Menís team has withdrawn from this yearís Menís league competition due to a lack of sustainable Menís player's pool.
The Menís league will continue with a three-club format. The Mariners Ladies Rugby team will still be competing in the Women's Touch Rugby League.
This is a truly unfortunate development for local rugby. The BRFU is hopeful that Mariners Menís can return to domestic rugby as soon as possible and a goal of four Menís club teams for the season-ending Nichol Shield is achievable.
The BRFU is very sympathetic to the circumstances that have led to this decision- and is hopeful with the support of the rugby community we can find a sustainable solution. There is a need of more players in addition to volunteers to assist with governance and logistical assistance. They are a proud club and this is devastating for their core players and alumni. I have deep empathy for what they are currently enduring.
Like all other NSGBs -rugby has experienced some extreme hardships with the lingering impact of COVID after a prolonged absence from sporting activities. We have seen athletes either retire or move on to other sports. The heartbreaking development is the impact on volunteerism that is essential to keep amateur sports alive. Hopefully, we can weather this rough patch and help the Mariners Men's section bounce back. If they are people willing to assist please contact me directly.
Mariners have been part of the rugby community all of my 38 years of involvement- it is a big blow but I am resolute that a sustainable solution will be found.
Certainly this a blow but there are really positive things happening elsewhere in Bermuda rugby - our Sunday Rugby Youth Programs are up and running with over 150 kids involved at NSC from 10-12 every Sunday - we welcome everyone.
The Ladies Touch League is strong and we are developing a tackle program to complement the Women's Nation team, congrats to coach Alvin Harvey on his MBE!
We go a long way back Under 19 & 21 National teams. I was his vice-captain on the National teams when he captained us to several Caribbean championships. We now support the referee's society together. In my early 10-year tenure as BRFU President, I could always count on Alvin's support. He has been an inspirational role model for so many young Bermudans and an incredible ambassador for our country- it's wonderful that he has received this recognition.
The BRFU will be running upcoming coaching and referee course which are available to all interested persons.
The BRFU is really excited and looking forward to reigniting the high school competitions and seeing rugby return to the public school sports curriculum after a prolong COVID-induced hiatus.
The Menís National 15s team is reigning Caribbean champions and recently defeated a very strong Gibraltar squad with a young squad! Our National Menís 7 s team continues to consistently perform at the highest levels regionally. So there are a lot of positives - the best is that rugby is a fantastic sport with strong worthy core values and a positive sportsmanship culture.
As stated the BRFU and I are resolute in resolving the Mariners Menís situation and returning to the four club Menís league format as soon as possible. This may mean some changes amongst player development and deployment from the traditional paths but I am sure the local rugby community will embrace what's best for the sport.Ē