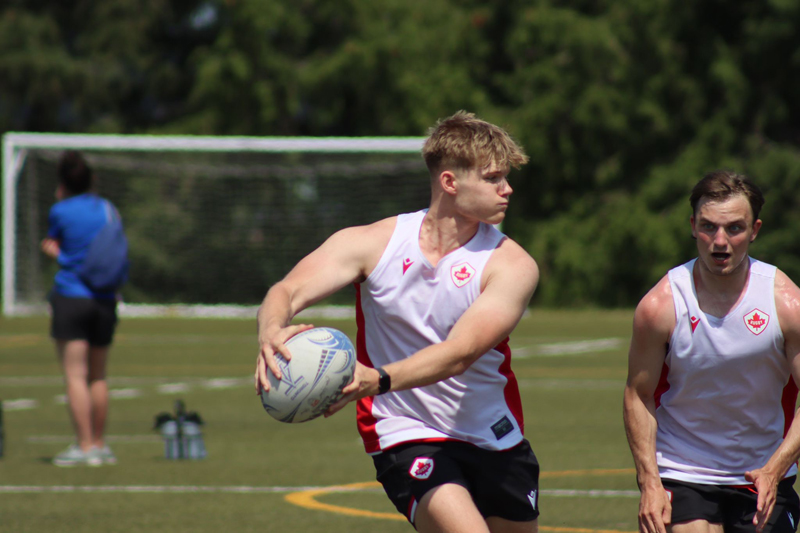 Jamin Hodgkins and his Canada's Men's Under 20 teammates began their U20s Canada Conference campaign with a 32 - 24 defeat to Zimbabwe in a highly-competitive match at the University of Guelph.
Tries from Relmu Wilson-Valdes, Mehdi Porchet and Ethan Fryer, as well as a series of successful conversions from Hodgkins, gave the Canadian fans in attendance plenty to cheer about as the hosts came back from a 20-0 deficit to lead in the second half, but weren't enough to ultimately secure the victory.
"I'm super disappointed," said Head Coach Adam Roberts. "In an international, you can't spot a team 20 points. The boys fought hard, those 30 minutes in the second half but it's game management and these guys have got to learn these lessons. It's tough in these conditions to come together but the game management piece is something we've really got to look at and look through all the moments of the game and get that fight back and dig deep for this next one."
The day's action began with a 27-3 win for Uruguay over Chile before Roberts' Canadian team took to the field for their tournament opener.
It was Zimbabwe who enjoyed the upper hand in the opening exchanges, and they capitalized via a sixth-minute penalty conversion by their captain and full back Takudzwa Musingwini.
That was followed by a try from scrum-half Panashe Zuze, who gathered the ball in his stride and burst through a gap, to ensure the visitors' lead was 10-0 at the midpoint of the first half.
In the 27th minute, a turnover in midfield saw Zimbabwe regain possession, put it through hands and out to winger Tawonga Ablant, who showcased his immense speed to bypass multiple defenders as he tiptoed down the sideline and in for the try.
Moments later, that score was replicated almost step for step by Emmanuel Farawu on the opposite wing as Zimbabwe extended their lead to 20-0. Canada enjoyed a spell on top just prior to half time and their efforts were rewarded when Wilson-Valdes went over from a pick-and-go with just two minutes on the clock.
That score clearly gave Canada confidence as they came out the better team after half time. In the 50th minute, prop Porchet collected the ball just a few meters out and powered over the line to cut Zimbabwe's advantage to just six points.
A few minutes later, the hosts would take their first lead of the match as a well-worked move was finished by flanker Fryer to make the score 21-20 after Hodgkins hit the resulting conversion. The fly half then improved Canada's margin by three points as he split the posts with a penalty conversion to make it 24-20.
Zimbabwe, who had been on the backfoot since the restart, burst back into life on the hour mark as Ablant scored his second try of the match to restore a one-point advantage for the visitors. Down to 14 players after a yellow card, Zimbabwe struggled to cope with increasing pressure from the Canadians, whose forwards were dominating the set pieces.
However, with less than ten minutes to go, it was their speed on the outside that secured the visitors' game-clinching try as Ablant went over for a third time to claim his hat-trick and make it 32-24, which is how the match would end.