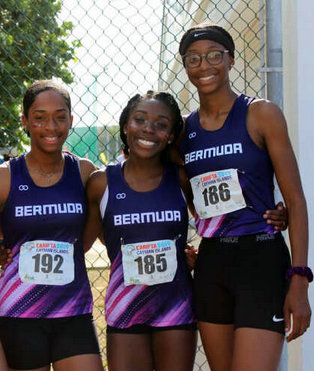 Parsons, Bobb, Bulford-Trott
IslandStats.com
Bermuda trio of Keturah Bulford-Trott, Za'kayza Parsons, and Caitlyn Bobb, helped the University of Maryland, Baltimore County (UMBC) Women's Track and Field program make waves in the Penn Relays including a Gold Medal winning Relay Squad and a top-ten individual finisher.
Winning an event at the world-famous Penn Relays is a goal that all track and field athletes dream of.
For the Women's 4x100 team of Savannah Wright, Bulford-Trott, Parsons, and Bobb, that dream became a reality as they earned first place with a speed of 45.90 seconds.
The UMBC team qualified in fourth place in the heats and lowered their mark by .90 seconds to top UConn and Michigan State in the finals.
The UMBC Women's 4x400 relay runners Bulford-Trott, Leanne McDonald, Bobb, and Samantha Kameka came in tenth, crossing the tape in 3:55.60.