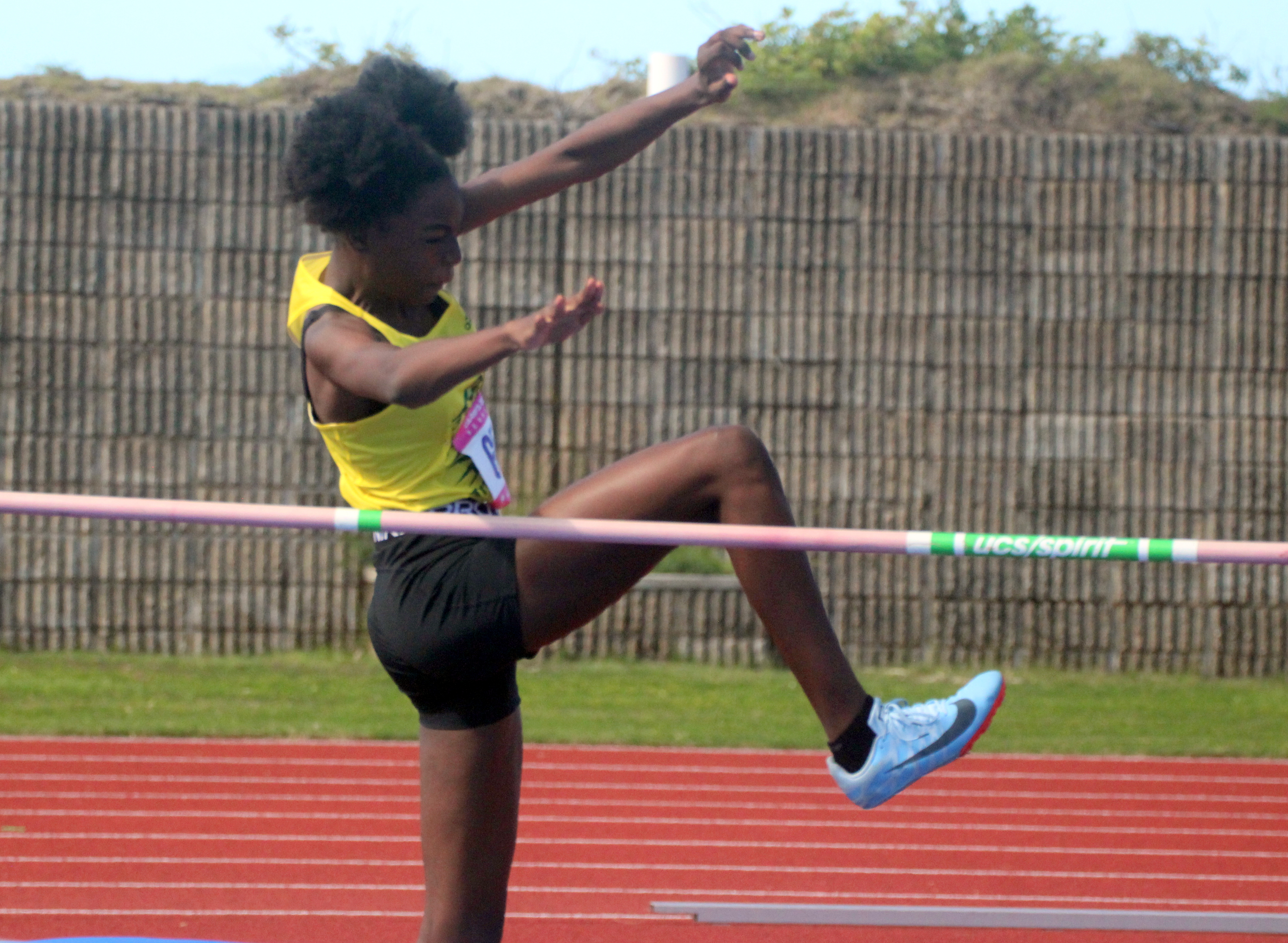 Ellise Dickinson
IslandStats.com
The 2022 Bermuda National Athletics Associationís 6th Track Meet of the season took place at the Flora Duffy National Sports Center South Field.
Sancho Smith won the Mixed 400 Meter Dash Open, he clocked a time of 50.39, Suresh Black was second in 50.41, and Seer Carey finished third clocking a time of 53.94.
In the Menís 1500 Meter Run Open Aidan Herrick crossed the line in a winning time of 7:05.31, Jasper Herrick was second in 7:12.68, while Jezhari Talbot won the Womenís 1500 Meter Run Open clocking a time of 6:05.04.
The Womenís High Jump Open was won by Ellise Dickinson with a leap of 1.35m, the Menís Long Jump Open was won by Charles Fox with a leap of 4.15m, and the Womenís Discus Throw Open was won by Tiara Derosa with a top toss of 47.95m, Kisaye' Bell was second tossing 29.47m.
Men 100 Meter Dash Open

12.03 Saj Carey
12.42 Miles Outerbridge
13.14 Andre Hollinsid
13.59 Aikido Oloughlin
13.78 Charles Fox
Mixed 400 Meter Dash Open

50.39 Sancho Smith
50.41 Suresh Black
53.94 Seer Carey
57.76 Daylen Scott
59.42 Shayla Cann
1:01.81 Ellise Dickinson
1:07.51 Lashee Jones
Men 1500 Meter Run Open

7:05.31 Aidan Herrick
7:12.68 Jasper Herrick
Women 1500 Meter Run Open

6:05.04 Jezhari Talbot Women High Jump Open

1.35m Ellise Dickinson
Men Long Jump Open

4.15m Charles Fox Women Discus Throw Open

47.95m Tiara Derosw
29.47m Kisaye' Bell
Women Javelin Throw Open

30.50m Kesay Bell