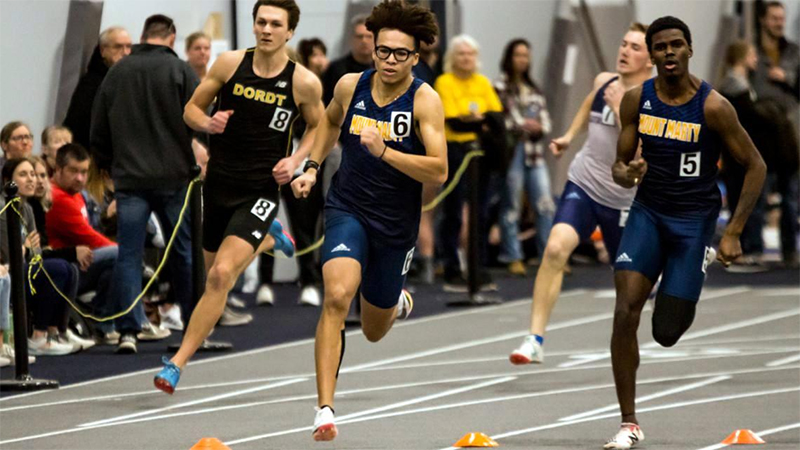 Nathan Simons far right
IslandStats.com
Yesterday www.islandstats.com brought you updates on four of Bermudaís Track & Field athletes competing overseas, today we bring you another three.
Nathan Simons
Nathan Simons and his Mount Marty Menís Track & Field teammates traveled to Crete, Neb. to compete in the GPAC Championships for the past two days.
The Men's team placed 3rd overall in the GPAC with 87 points, 3 first-place finishes, and multiple top-8 placements.
The Menís 4x400 Relay team placed first with a qualifying time of 3:20.55. The runners in this relay were Malual Angok, Taven McKee, Jesse Van Hemert, and Simons.
During the Menís 200m, Simons finished 2nd, clocking a time of 22.34.
Simons would also finish second during the Menís 600m with a time of 1:22.13.
Diarra-James Powell-Burgess
Diarra-James Powell-Burgess and his Clayton State Men's Track & Field teammates closed its indoor regular season at the USC Indoor Open in Columbia, S.C.
Powell-Burgess competed in the Menís 200m dash, he would clock a time of 23.51 finishing 53rd out of 91 competitors.
Nathan Armstrong
Nathan Armstrong and his Rider University Menís Track and Field teammates finished in second place with 172 points at the MAAC Championships at the 168th Street Armory.
Beating the previous MAAC record, Armstrong, Kevin Heredia, Leo Zaccaria and Tamrat Snyder finished the Menís 4x800m Relay with a time of 7:39.14. However, the team settled for second as Monmouth also beat the mark at 7:36.98.
During the Menís 800 Meter Run Armstrong finished 12th clocking a time of 1:55.61.