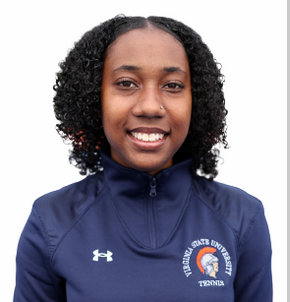 Alexcie Burrows and her Virginia State University Women's Tennis teammates improved to 12-3 and advanced to the Semi-Finals of the 2023 CIAA Women's Tennis Championship following their 4 – 0 win over Virginia Union.
Virginia State's Jayce Gaither and Burrows swept J. Edwards and B. Velinor 6-0 at the No. 3-doubles spot.
Burrows would then defeat Velinor in straight sets 6-0, 6-0 in the number 6 Singles spot.