Sunday, July 17, 2022
Bermuda Win Final Tour Match in Dominican Republic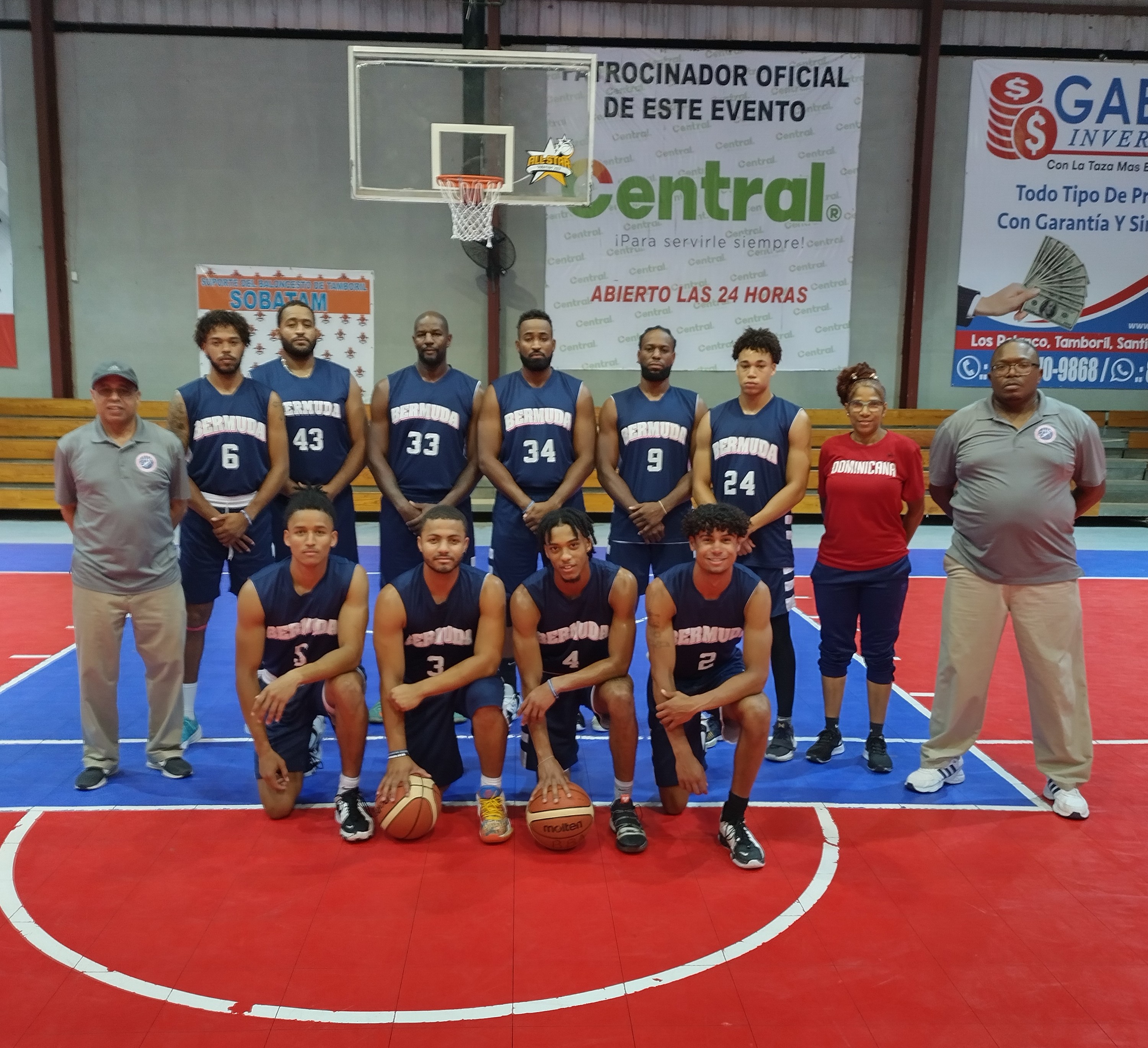 The Bermuda Men's National Select Team playing 4 games in a short period of time was meant to give the Team a feel for CBC Tournament play. However, by this time, players would be fatigued and also having to deal with minor aches and pains. The final game of the tour against Los Polancos would be a good test of the team's mental fortitude.
There was a change in the lineup which proved to be positive, in the first 3 games, the team started off slow. This time they got off to a 9-2 start forcing an early time-out from Los Polancos who would eventually make a comeback late in the half to within 2, as Bermuda led Los Polancos 32 – 30.
The start of the second half saw several lead changes throughout the third quarter, however a balanced scoring attack led by Caelin Peters enabled Bermuda to extend its lead to 6 points going into the final quarter. Los Polancos were able to pressure Bermuda into a few turnovers in the waning minutes of the game, but the steady leadership of Sulilvan Phillips who scored 9 points in the quarter and the ability to force Los Polancos into taking hurried shots enabled Bermuda to cruise to victory in final seconds of the game 76 - 72.
Mykal Glasgow and Adam McDonald both scored 12 points, while Peters added 11 points, Phillips scored 10 points, which would combine for 60% of the teams total points.
Bermuda coach Mackenzie was pleased with the performance of the team, but improvement needed from everyone. At least one of his goals was achieved, that there were no major injuries, as Bermuda finished the tour 3 & 1.

Friday, July 15, 2022
Bermuda Win Second Match in Dominican Republic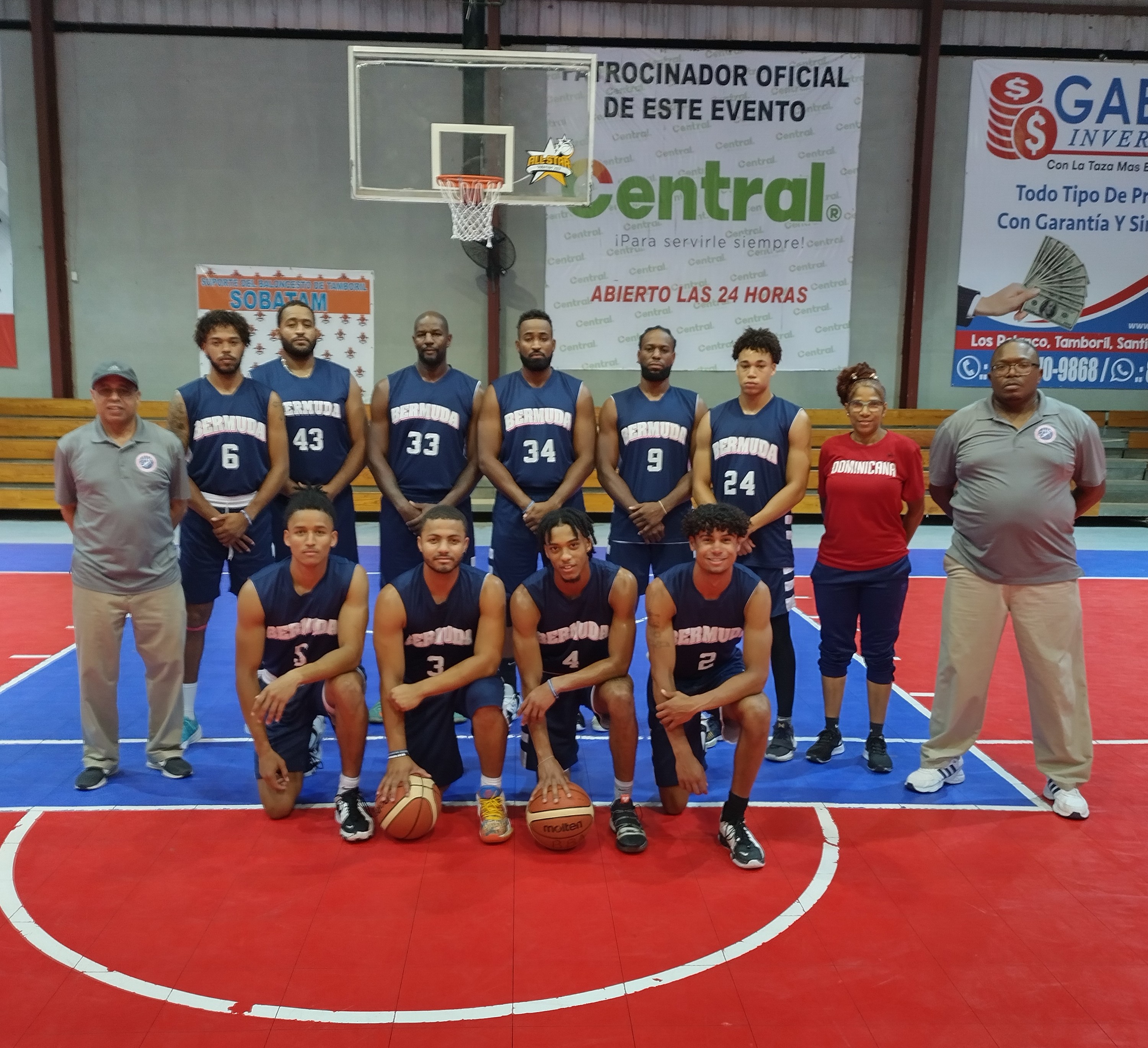 Some minor gym administration issues and delays would test the resilience of the Bermuda Men's National Select Team took on Don Pedro playing their third game in four days.
Every game, the team has started off slow. No different in this one as the team finished 1st quarter down. In the 2nd quarter, after a few lineup changes, the team would have it's best defensive quarter, limiting Don Pedro to 6 points.
Winning the rebound battle allowed Bermuda to score in transition and they would eventually take the lead back by halftime 33 – 28.
With the addition of youth mixing with the veterans, consistency and team chemistry are important, but this is what the development tour is about. Bermuda would make a few defensive stops but then allow their other opponent to go on significant offensive runs which kept the score close.
Mykal Glasgow continued to be a scoring threat, not settling for perimeter shots, on drives to the basket. Eric Lambert was a welcome surprise with his individual defensive effort in the second half.
Sullivan Phillips in his role as a player-coach sat most of the second half. However, he came into the game with about 3 minutes left and Bermuda down by 3 and turned the deficit into a 6-point lead.
Bermuda would eventually win 70 – 66.
Bermuda coach Mackenzie summarized the game mirrored the previous game where the game was won, but the team could've played a lot better.
Glasgow and Caelin Peters led Bermuda in scoring with 15 points each, while Adam McDonald added 11 points.

Wednesday, July 13, 2022
Bermuda Win Second Game in Dominican Republic
Game 2 for the Bermuda Basketball Association's Senior Men's National team in the Dominican Republic saw them take on Badefu
This game was a test to see if Bermuda could quickly recover from a game that everyone thought they should've won.
One of the goals of the BBA Development tour is to reclaim Bermuda as a defensive team.
Bermuda got off to a much better start than the previous game with a 21-16 first-quarter lead. Plus the fact that they were able to take 3 offensive charges in the first quarter. (6 total) Unfortunately, they allowed Badefu to get back in the game and finished the half down 39 - 35.
Badedu continued to attack the basket in the 3rd quarter primarily their two top-scoring leaders. While they didn't score many baskets, they were able to create foul trouble which put them on the free throw line.
Veteran floor leadership from Sullivan Phillips allowed the Bermuda team to overcome the adversity of foul trouble early in the fourth quarter.
His poise and decision-making allowed Bermuda to maintain the lead late in the game when Bafedu made a late push. And with contributions in the quarter from Jason Lowe and Mykal Glasgow score 8 points each, as well as getting 6 points from Adam McDonald saw Bermuda able to squeak out a 79 - 75 win.
Coach Mackenzie was pleased with the number of players who rose to the occasion, especially in the waning minutes of the game. Special mention to Jorel Smith for 2 clutch free throws with seconds left on the clock to extend the lead to 4 points.
Glasgow led Bermuda with 17 points, and 6 rebounds, while McDonald scored 16 points, and Smith scored 15 points, which included three 3-pointers.

Tuesday, July 12, 2022
Bermuda Basketball Fall in Dominican Republic Tour Opener
The Bermuda Basketball Association's Senior Men's National team program is in transition as it introduces a welcome injection of young talent. The second Development tour for this year is being held in Tamboril a municipality of Santiago, Dominican Republic against club teams of the Soporte del Baloncesto Tamboril (SOBATAM) Association.
Sullivan Phillips and Jason Lowe, key veterans of past National Team success both have aspirations of coaching at National Team level. Along with John Lee, they were brought in to act as mentor's for the surge of youth to the National program.
The team looked to start the tour off with a win. They faced Team Canca, recent winners in the SOBATAM Pre-Superior tournament. From watching video, Head Coach Gavin Mackenzie knew that teams would prefer to push the ball in transition. Defensively, Bermuda would need to limit this type of scoring and force teams to play half-court offense.
Game started off slow. Bermuda had good scoring opportunities from the perimeter but we're relegated to scoring most 1st half points on the inside. Canca held a 37 – 26 lead at the break.
In the second half Bermuda spent the game catching up narrowing the lead to 2 points on several occasions. They started to hit perimeter shots and played better defensively in spurts. They outscored their opponent 46 - 38 in second half as both teams started to hit perimeter shots consistently.
Mykal Glasgow got the game within 1 point on a 3 point shot with 15 seconds left. Bermuda was forced to foul and Canca was up 3. Sullivan Phillips had a chance to tie with a 30 foot fling but came up short, as Bermuda would fall 75 – 72.
Jason Lowe led the team with 19 points and 7 rebounds, Bermuda also got valuable contributions from Jonathan Lowe who had 13 points, and Glasgow who had an outstanding 4th quarter, finishing with 13 points, 5 rebounds and 2 assists. Sam Darrell and John Lee also made defensive contributions throughout the game.

Monday, May 16, 2022
Bermuda Fall Again in the Dominican Republic
Bermuda would fall in their third game in the Dominican Republic going down by 30 points against a Dominican Republic Select Team.
Bermuda got out to an 11-4 early lead, however, due to mounting injuries which were expected due to the physicality of the FIBA game and the Bermuda player's fitness level, things became more challenging, Bermuda moved to play zone which was a gimmick matchup zone which confused the home team for at least the first 2 quarters.
The zone forced the Dominican Republic into forced shots with defenders' hands in their faces rather than wide-open perimeter shots created by running defenses off of screens and dribble hand-offs.
The zone also allowed Bermuda to limit the host dribble penetration as more Bermuda players were able to help on the defensive rebounds, preventing second and third shot opportunities which they had plenty of in games 1 and 2.
Adam McDonald continued with solid floor leadership and perimeter shooting. Other players were forced to step up as Chris Crumpler couldn't play due to a back injury, Jaren Haley finally got going on the perimeter with 8 points in the first half. Contributions were made by everyone, especially on the defensive boards.
Halftime score, Bermuda down by only six points, 38 – 32, by far, Bermuda's best half of the tour.
The tables drastically turned in the second half, Bermuda's apparent lack of fitness was the team's undoing. Shots were not falling and Bermuda was always a step short of getting out on their perimeter shooters.
The effort was there but the lack of a bench and injuries slowed Bermuda defensively and offensively. In short, the second half was a mirror image of the first two games.