Saturday, September 29, 2018
BNA 2nd Annual Celebrity Exhibition Match
The Bermuda Netball Association 2nd annual Celebrity Exhibition Match where MALE and FEMALE local celebrities join forces thrilled a large crowd inside the Cedarbridge Academy Gymnasium.
The 9 Parish Ballers defeated the Gombey Squad 20 – 17.
In an entertaining match Chris Crumpler who was impressive on both ends of the court was named the 9 Parish Ballers MVP, while Robert Wilson was named the Gombey Squad MVP.
With the 9 Parish Ballers 3 point win, Gombey Squad's Tarik Smith was left to wash the jerseys following a challenge he threw down.
The champions Team 9-Parish Ballers team which was coached by Danielle Raynor included Abera Outerbridge, Chaquita Simmons, Chris Crumpler, Chris Furbert Jr, Debra Saltus, Dominique Richardson, EarI Basden, Jah Simmons, Jasmine Patterson, Jekon Edness, ShiVaughn Lee and Nick Kempe, while Team Gombey Squad coached by Merle Parfitt consist of Jason Hayward, Jaylynn Hines, Karlandra Smith, Lamont Marshall, Latonae Smith, Marissa Brangman, Nadanja Bailey, Nikkita Robinson, Robert Wilson, Shannon Burgess, Tarik Smith, Teresa Perozzi and Zakiyah Durham.

Wednesday, September 26, 2018
Bermuda Netball Celebrity Exhibition Match Countdown
The Bermuda Netball Association announced the annual Celebrity Exhibition Match where MALE and FEMALE local celebrities join forces to compete for a thrilling action packed 60 minutes.
It all goes down on September 29th at Cedarbridge Academy.
Just some of the Celebrities confirmed include Bermuda Day Half Marathon Derby winner Lamont Marshall, Senator Jason Hayward, Deputy Chair of the One Bermuda Alliance Tarik Smith, Nadanja Bailey, Chris Crumpler and Teresa Perozzi just to name a few.

Tuesday, September 04, 2018
Lema Awarded Financial Assistance
The Continental Society of Bermuda has awarded bursaries to three students in need of financial assistance for university.
One of the Students awarded was Bermuda Netballer Kayjuna Lema.
Denise Simons, President, Continental Society of Bermuda, says: "For more than 15 years, we have been able to award deserving students with bursaries to enable them to further their education. Our scholarship programme is near to our hearts and we look forward to assisting when and where we can. We believe our recipients this year are well-deserving and we can't wait to see the good they will do in the world."
Lema is currently in her last year at Manchester Metropolitan University studying forensic psychology. She graduated from Berkeley Institute in 2013 and attended Bermuda College from 2013 to 2016. Lema is a previous bursary recipient and this award will enable her to continue her studies.
The Continental Society of Bermuda is an affiliate chapter of the Continental Societies Incorporated, an international public service organization committed to improving the welfare of children in communities across the USA and Bermuda.
Founded in 1962 as charity number six, the Continental Society of Bermuda is supported by 100% volunteer membership of approximately 30 Bermudian women.

Monday, August 27, 2018
Four Participate in Umpire and Coaches Seminars
The Bermuda Netball Association announced that National Program Coaches and Players Chaquita Simmons, Anthony Mouchette, Coriah Simmons and Selah Tuzo participated in an umpire and coaching seminar in Barbados.
The AFNA Regional Netball Umpire and Coaches Seminar was organized by Americas Federation of Netball Association (AFNA) and sanctioned by the International Netball Federation (INF).
The Bermuda contingents successfully completed the seminar, which consisted of both theoretical and practical segments.
Bermuda was commended for its forward thinking in having the youngest persons to participate in the seminar.
Simmons and Tuzo are current members of the Under 16 National Training Squad and have been pegged as future leaders.
Bermuda Netball Association President Kimale Evans said, "These are exciting times for netball and we would like to thank all participants for being such great ambassadors for Bermuda and the sport of Netball."

Wednesday, June 27, 2018
Not Funny Any More at Bernard Park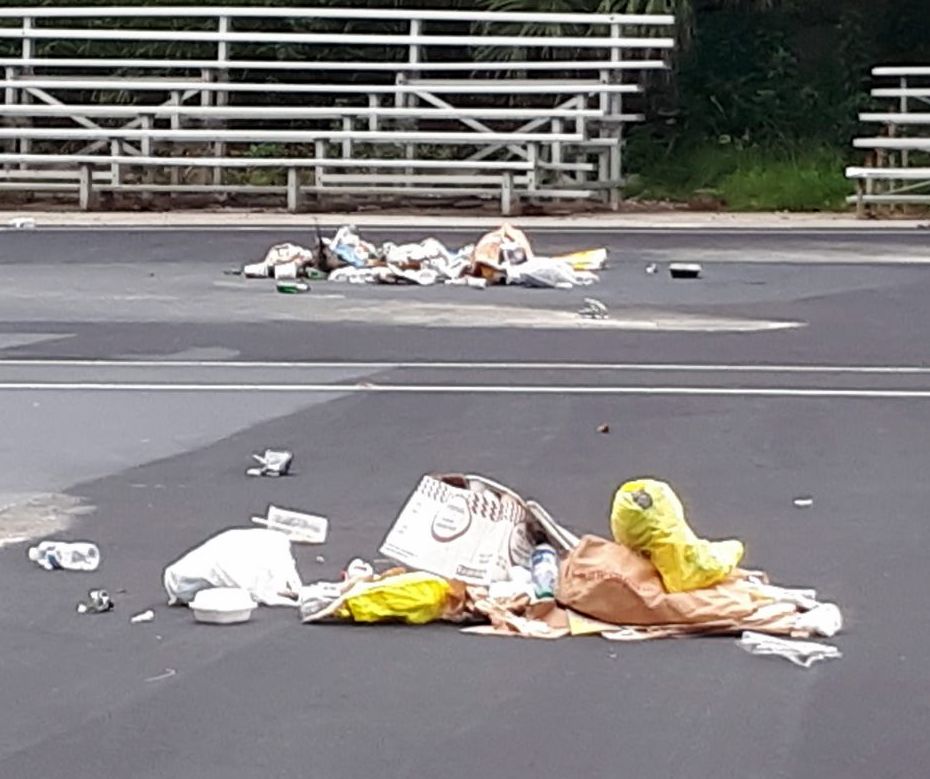 Not for the first time has the Netball Courts at the Bernard Park been the target of vandalism.
Debris was thrown onto the courts that were due to be played on just last evening and with the Bermuda Netball Association Annual General Meeting set to take place on Thursday, the vandalism is sure to be a topic of discussion.
Back on June 1st www.islandstats.com reported that vandals struck at the Netball Courts at Bernard Park yet again.
The facility that was full of life just the day before with three matches played in the Summer League Season, but when the sun rose it was discovered that parts of both courts have been left splashed and smeared with paint.
President of the Bermuda Netball Association Kimale Evans said, This is really frustrating as we are the number one sport in Bermuda for female and we want to give them a place of pride, but to have someone do this is very upsetting."