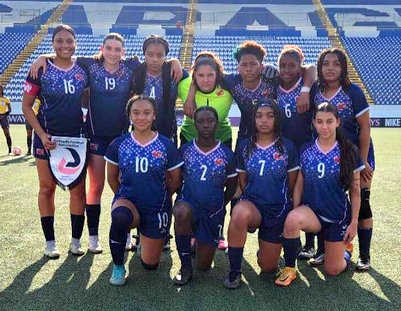 Honduras 6 Bermuda 1
The CONCACAF Women's Under-20 Championship Qualifying tournament got underway.
Bermuda played their opening Group E match at the Estadio Nacional in Managua, Nicaragua falling to Honduras 6 - 1.
Honnduras Starting Line-Up:
- Nathalie Urrutia, Tiffany Avila, Betsy Bu, Emelly Chicas, Izabella Hernandez, Susan Henriquez, Allison Pastrana, Iveth Ramos, Anyeli Rodriguez, Emory Sanchez, Alessandra Valdez -
Substitutes:
- Sofia Salinas, Alessandra Canahuati, Ariana Guevara, Sheylla Cortez, Ashley Flores, Karla Calix, Stephanie Kury, Katherine Luna, Daniela Zuniga -
Bermuda Starting Line-Up:
- Taya Rodrigues, Jayla Peets-Butterfield, Samara Darrell, K'xiyae Gibbons, Marli Butterfield, Jahni Simmons, Ashley Dasilva, Che-chulae Dowling, Jahde Simmons, Zemira Webb, Breanna DeSilva -
Substitutes:
- 12 Samantha Davies, Azari Easton, Kenyandae Lightbourne, Camryn Lines, Christia Lugo-Elibox, Keidel Astwood, Robin-Valana Pearman, Sanaa Simmons
Susan Henriquez led the way with a pair of goals in the 8th and 34th minutes, as they held a 2 – 0 lead at the break.
Emory Sanchez would make it 3 – 0 in the 48th minute, Honduras would go ahead 4 – 0 four minutes later when Anyeli Rodriguez scored. In the 56th minute Betsy Bu made it 5 – 0, but Bermuda would pull a goal back in the 89th minute when Sanaa Simmons found the back of the net, Simmons would beat her marker to the ball, before chipping the ball past the out stretched left hand of the goalkeeper, but Ariana Guevara restored Honduras' five goal lead in stoppage time to make it 6 – 1.