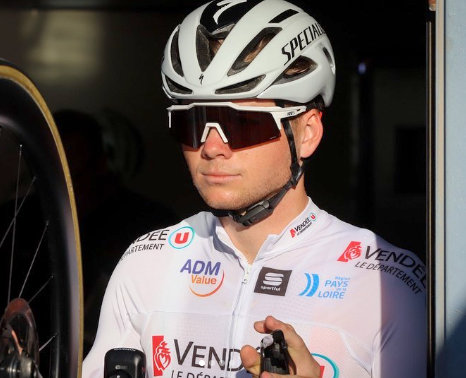 Kaden Hopkins and his Vendee U Cycling teammates won the Tour des 4B Sud Charente.
Hopkins teammate Nicola Marcerou won the fourth edition of the Tour des 4B Sud Charente (National Elite), contested over 151.1 kilometers around Brossac (Charente) clocking a time of 3:39:48.
He was ahead of Oliver Knight (AVC Aix-en-Provence) and Maxime Jarnet (Go Sport-Roubaix Lille Métropole).
Hopkins finished 15th overall clocking a time of 3:40:24, Hopkins had finished 24th competing in the 11th edition of the classic Le Poinçonnet-Panazol Limoges Métropole (Élite Nationale), the day before.
Hopkins clocked a time of 3:53:55 over 159.6 kilometers between Le Poinçonnet (Indre) and Panazol (Haute-Vienne).