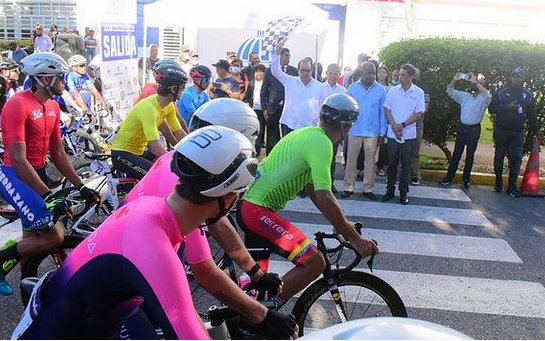 Bermuda Riders Ready at the Start
IslandStats.com
Bermuda Cyclist Conor White, Liam Flannery, Zander Miller, Nicholas Narraway, and Dominque Mayho continued racing the XLIII Vuelta Ciclística Independencia Nacional (2022) in the República Dominicana.
The fifth day of the race was very exhausting with 216 kilometers traveling on the Samaná-Nagua-Río San Juan-Gaspar Hernandez-Sosúa-Puerto Plata stretch.
Riders 4 – 60 all finished 1 minute and 20 seconds behind the stage winner Michael Hernandez.
Mayho was the top Bermuda rider on the day crossing the line in 10th, with a time of 5:12:18, White crossed the line 18th with the same time. Narraway finished 47th, while Flannery finished 66th with a time of 5:12:54, and Miller finished with a time of 5:13:55 in 74th.
Mayho picked up 6 points on the Day.
Narraway continues to lead the Bermuda team overall, he currently sits in 30th place with a time of 22:01:37, he is 3 minutes and 52 seconds behind the overall leader Gomez who has a time of 21:57:45.
White is 33rd overall with a time of 22:02.08, Mahyo is currently in 67th clocking a time of 22:17:38, while Miller is 74th with a time of 22:22:34, and Flannery is in 78th clocking 22:26:36.
Narraway moved up to 5th in the Under 23 Division, he is 3 minutes and 7 seconds behind the current Division leader, Miller is 18th, and Flannery is 20th.
Team Bermuda remains in 10th place with a five-day total time of 66:16:32.