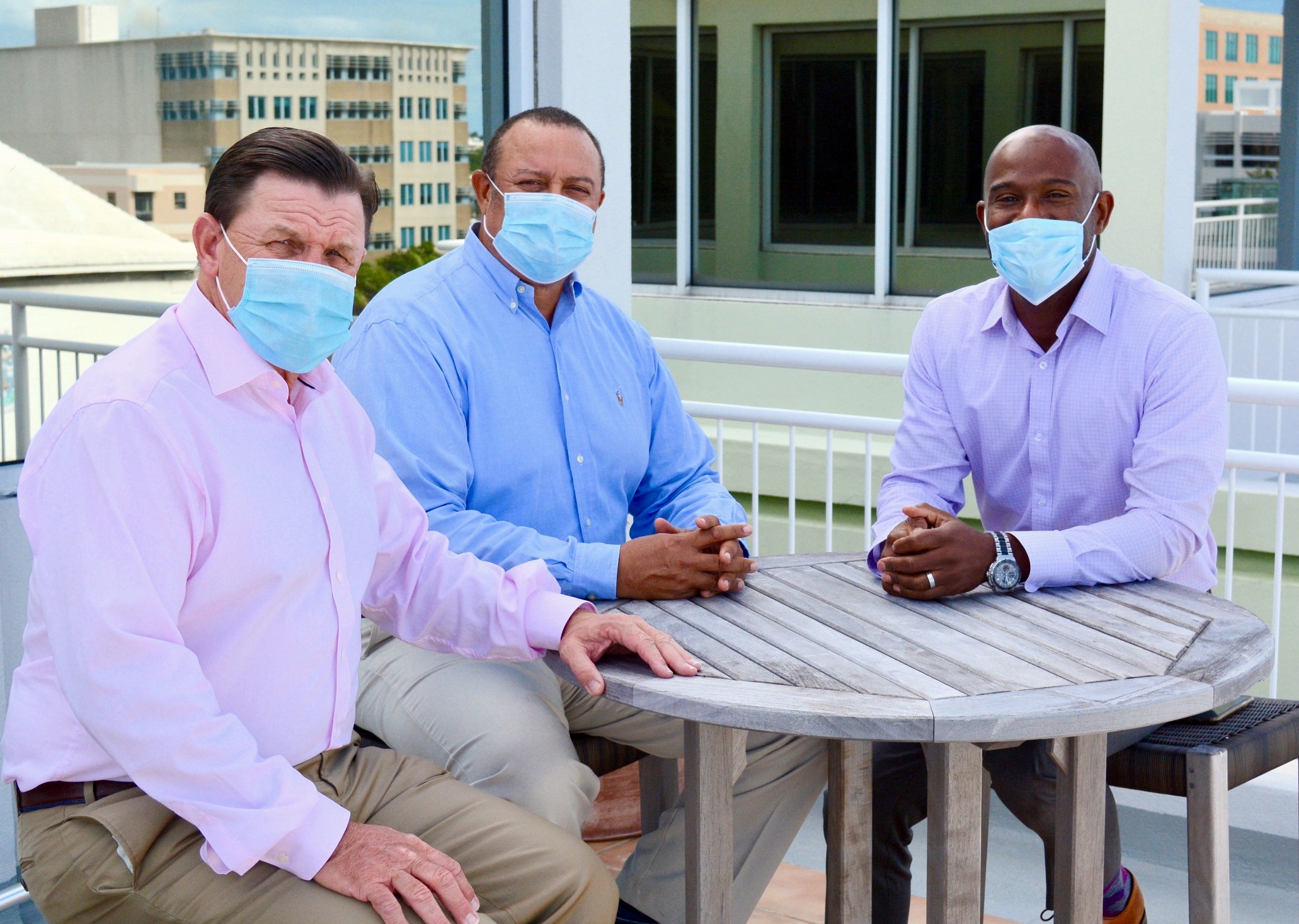 Paul Scope - Mark Clarke - Glenn Jones
IslandStats.com
Paul Scope and Mark Clarke have accepted an invitation to lead a Community Steering Committee formed to provide a supporting role for next spring's SailGP Bermuda Grand Prix presented by Hamilton Princess (April 24th–25th).
With Bermuda Tourism Authority (BTA) as Official Host Partner, the island was announced last month as SailGP's Season 2 launch venue. The global league will stage a four-week training camp in Bermuda, followed by the two-day, live-televised kick-off event on the waters of the Great Sound. As well as delivering direct economic benefit, the event will offer educational programmes, community engagement, and local business and entrepreneurial opportunities—which the new committee will champion and help facilitate.
Scope and Clarke have been appointed Chair and Deputy Chair, respectively, and are finalizing the invitations of other members to the committee's Board who are reflective of stakeholder groups with meaningful social or economic engagement points with the camp and Grand Prix.
"We're acting globally, but thinking locally with the formation of this committee," said BTA Interim CEO Glenn Jones. "Our objective is clear: ensure opportunities are openly communicated to diverse audiences so that our local community is fully engaged. I know Paul and Mark are passionate about how an event like this can achieve grassroots benefits, and they're committed to driving a dynamic team to make that happen."
Scope, an insurance industry executive who became Bermudian during his 30-plus years on the island, is Chair of Willis Bermuda and also serves on the boards of numerous organizations, including as Chair of both the Bermuda Business Development Agency (BDA) and Bermuda Shipping & Maritime Authority (BSMA). A keen sportsman, he played at the top level in local football for a decade, before a successful coaching career with Somerset Trojans, Robin Hood FC, and the Bermuda National Team. He was a co-founder of the Bermuda Hogges and still assists players pursuing professional careers. Scope also sits on the Executive Committee for the PGA TOUR Bermuda Championship.
"I was honored to be asked to serve on the SailGP Community Steering Committee because I think it's such a timely and important event for Bermuda that can help our economy get back on track," said Scope. "Mark and I hope to bring our local expertise and community relationships to bear, and other Committee members, whom we'll announce shortly, will also add specific value to this effort."
Clarke is a former Detective Inspector with the Bermuda Police Service, who received numerous commendations and over his career worked to update legislation protecting children, vulnerable persons, and victims of sexual offenses. Now the Sail Chairman for East End Mini Yacht Club, Clarke also serves on several charities' boards, including the Coalition for the Protection of Children, Bermuda Sloop Foundation, and Bermuda Sailing Association. An avid sailor, he represented Bermuda at numerous international races in the Comet Class and helped organize this year's inaugural Bermuda Sloop Rally.
"SailGP represents for Bermuda a unique opportunity to reboot our island's economy," he said. "Most importantly, it also has the ability to highlight our unique maritime history and diversity, as well as the way in which Bermuda has always overcome adversity. Paul and I have worked on numerous sporting events, and this time we will be able to work together. I look forward to our mission in helping make the Grand Prix an event inclusive of our whole community."