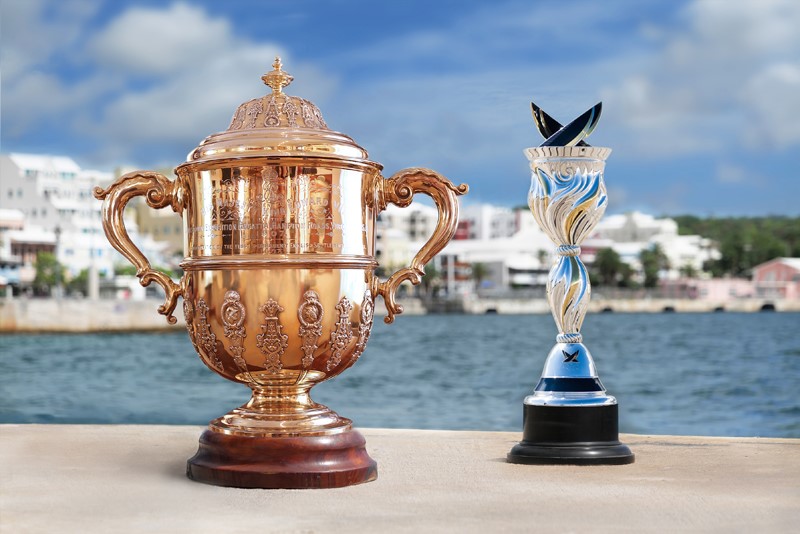 World and event champions highlight a fleet adorned with accolades for the celebratory 70th Bermuda Gold Cup and 2020 Open Match Racing World Championship, hosted by the Royal Bermuda Yacht Club October 26th – 30th.
They're all chasing the oldest trophy awarded for a competition involving one-design yachts, the King Edward VII Gold Cup, and the sterling silver World Match Racing Tour trophy that was made by Garrard & Co. The winner will also receive $30,000 of the $100,000 prize purse.
"The lure of winning two esteemed championships in one fell swoop has led to a fantastic fleet that is both competitive and accomplished," said Leatrice Oatley, chairperson of the Bermuda Gold Cup. "We're happy to welcome those who've been to Bermuda before and look forward to welcoming the new crews. Bermuda and the Royal Bermuda Yacht Club are ready to share the hospitality that is a hallmark of the regatta, just remember to bring a mask."
70th BERMUDA GOLD CUP/2020 OPEN MATCH RACING WORLDS ENTRANT LIST
• Johnie Berntsson (49, Stenungsund, Sweden) – World No. 12 Open Match Race Rankings,
• Jeppe Borch (22, Copenhagen, Denmark) – World No. 11 Open Match Race Rankings, first Bermuda Gold Cup, 3rd place 2019 Youth Match Racing World Championship
• Taylor Canfield (31, Miami, USA) – World No. 46 Open Match Race Rankings, seventh -time winner (2012, '18), 2013 Open Match Racing World Champion
• Pauline Courtois (31, Brest, France) – World No. 1 Women's Match Race Rankings, second Bermuda Gold Cup
• Nicklas Dackhammar (30, Gothenburg, Sweden) – World No. 14 Open Match Race Rankings, fourth
• Kelsey Durham (26, Smiths, Bermuda) – Two-time Bermuda National Match Race Champion, second Bermuda Gold Cup
• Lance Fraser (27, Toronto, Canada) – World No. 38 Open Match Race Rankings, sixth
• Torvar Mirsky (34, Sydney, Australia) – World No. 27 Open Match Race Rankings, fifth Bermuda Gold Cup, 2017 Open Match Racing World Champion
• Eric Monnin (45, Immensee, Switzerland) – World No. 1 Open Match Race Rankings, 13th
• Anna Φstling (36, Lerum, Sweden) – World No. 2 Women's Match Race Rankings, first Bermuda Gold Cup, two-time Women's Match Racing World champion (2014, '16)
• Chris Poole (31, Cold Spring Harbor, NY, USA) – World No. 7 Open Match Race Rankings, sixth Bermuda Gold Cup
• Phil Robertson (33, Gothenburg, Sweden) – World No. 101 Open Match Race Rankings, sixth Bermuda Gold Cup, two-time Open Match Racing Worlds champion (2016, '19)
• Mati Sepp (51, Tallinn, Estonia) – World No. 5 Open Match Race Rankings, first Bermuda Gold Cup
• Jelmer van Beek (25, The Hague, Netherlands) – World No. 10 Open Match Race Rankings, first Bermuda Gold Cup
• Matthew Whitfield (23, Plymouth, England) – World No. 21 Open Match Race Rankings, first Bermuda Gold Cup
• Ian Williams (43, Lymington, England) – World No. 6 Open Match Race Rankings, 12th Bermuda Gold Cup, two-time champion (2006, '19), six-time Open Match Racing Worlds champion (2007, '08, '11, '12, '14, '15)