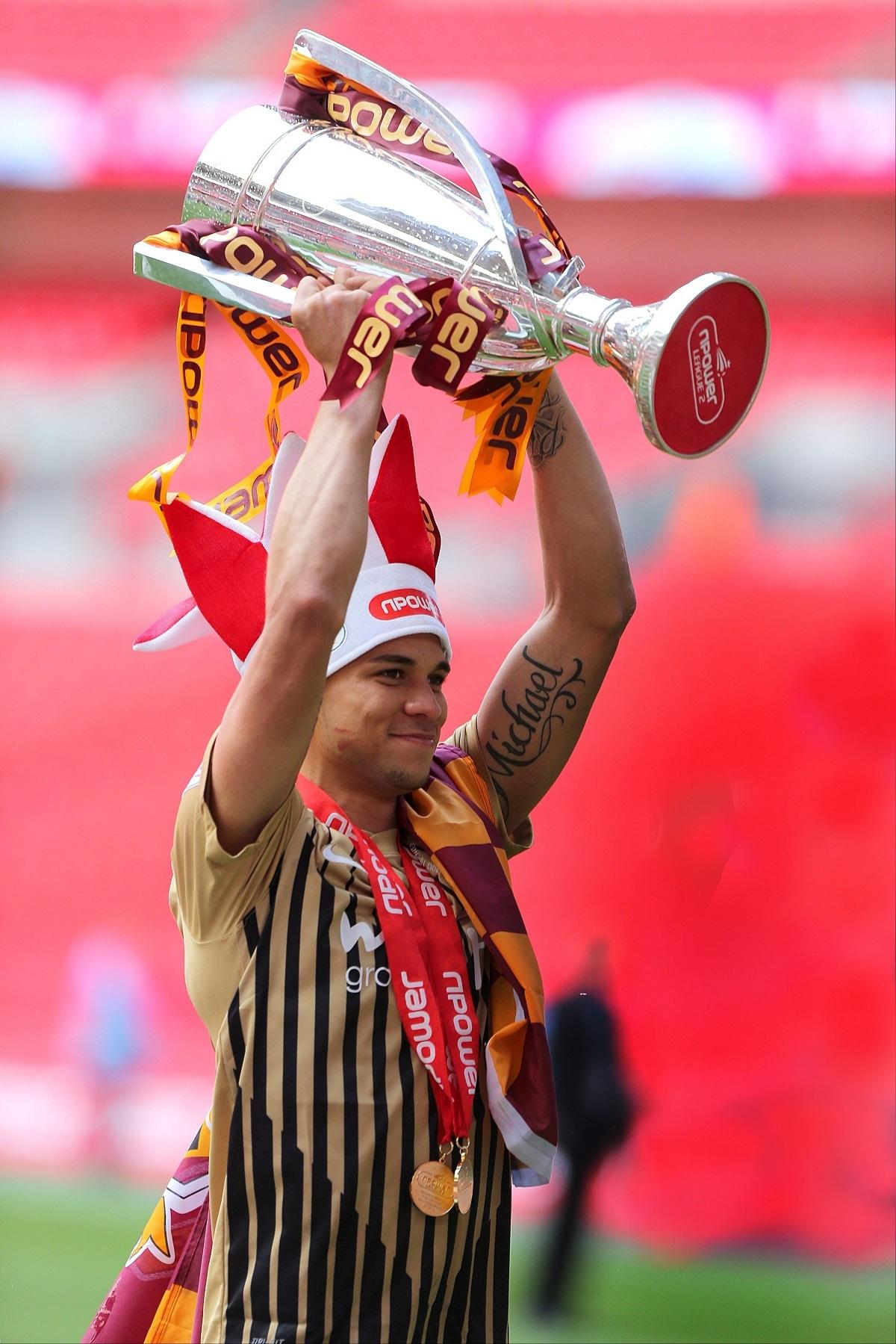 Simon Parker Chief Sports Writer from the Telegraph and Argus newspaper interviewed Bermuda International Nahki Wells who reflected on his time at Bradford City.
Wells will always look back on Bradford City's Wembley promotion as the launchpad for his career.
It is seven years to the day since the Bermudian scored the third goal in a 3-0 win over Northampton in the League Two play-off final.
The Bristol City striker has since gone on to forge a reputation as one of the most lethal strikers in the Championship. He had notched 17 goals this season before everything was shut down two months ago.
Wells credits what he learned under Phil Parkinson at Valley Parade, culminating in that glorious Wembley triumph.
He said, "It was one of the biggest games of my career. It was the catalyst to where I have been able to get to.
"It gave me a platform to go on and build myself a quite successful career from that point."
Wells had a brief spell at Carlisle when he first arrived in England but it was with City where he made his name, scoring 26 times in the 2012-2013 "history-making" campaign.
"I was more of an impact player in my first season but I think I had a big influence in us staying up," he added.
"I obviously wanted to be a main man every time. James (Hanson) was in front of me but Phil Parkinson incorporated me into the game very smartly.
"That allowed me to build for the next season and that's why I think I went on to have a good year.
"To play in a League Cup final and get promoted in my second full season was just a dream start to my career.
"That paved the way for me to have a successful time in the Championship and a bite at the Premier League."
Wells left City for Huddersfield eight months later in a deal eventually worth £2.3 million. The move inevitably caused friction among the Valley Parade fanbase but he believes that has subsided over time.
"I can understand the disappointment of the fans when I went to the local rivals," he told the T&A. "They saw themselves as equal to Huddersfield or bigger.
"I never wanted to leave the club. I had built such a connection, which I have done everywhere that I've played.
"Bradford gave me the opportunity to show what I have and make my mark on professional football.
"But it was just one of those occasions when I felt I had no obligation because I wanted to get to the top.
"We were mid-table League One at the time, not going down or up, and I just felt it was the right decision for my career.
"Fans were angry at the time but I think they see it now and I've only ever had warm welcomes when I've been back.
"You are always going to get one or two who are unhappy but that's football.
"But I think people see my reputation and what I did for the club and how well I did. Bradford will always be very close to my heart."
Wells was named Championship player of the month for January after a prolific loan spell at QPR. He left parent club Burnley for Bristol City at the end of the transfer window.
"I was having a great season and scored my last goal for Bristol prior to the league being stopped.
"I want to keep going but you have to put it into perspective with what's going on in the world. Football has to be put on the backburner."